Keep Track of Firearms with Weapons Tracking Labels
For law enforcement agencies, ranges and manufacturers, gun tracking is essential. Built to resist sunlight fade, abrasion and cleaning solvents, our tracking tags are designed to survive the life of your firearm and provide the following benefits:
Check-in and check-out of weapons to officers or range patrons. 

Track maintenance records based on gun tracking unique weapon identifiers.

Track ownership, value, or location and improve overall accountability.

Comply with traceability regulations, such as ATF, ITAR, MIL-STD-130 (UID), and more.
TRUSTED AROUND THE WORLD SINCE 1950







Select The Right Gun & Firearm Tracking Labels
Browse our gun tracker and firearm tracing products. Designed specifically to handle the unique wear and tear firearms, guns and other weapons undergo, our tags and labels are certified to last the life of your weapon.
Get a Custom Quote
Featured Resource
Firearm Tracker Evaluation Kit
Test out our firearm tracing and gun tracker labels with the Firearm Tracker Evaluation Kit. Sample labels, explore marking options, and learn more about tags for injection molded guns.
Explore considerations for picking a barcode symbology and data structure.
Find services to help set up your gun tracking software and program.
Get My FREE Kit ›
Uniquely Durable Tags, Trusted by Defense Organizations Worldwide
Camcode offers Metalphoto® anodized aluminum, the specified material of choice by engineers worldwide for durable bar code labels, asset tags, UID labels and nameplates. Because of its ability to perform across a range of challenging environments, Metalphoto meets an array of government, industrial and military specifications including MIL-STD 130 for Department of Defense UID data matrix bar code applications.
See the Specifications Metalphoto Meets ›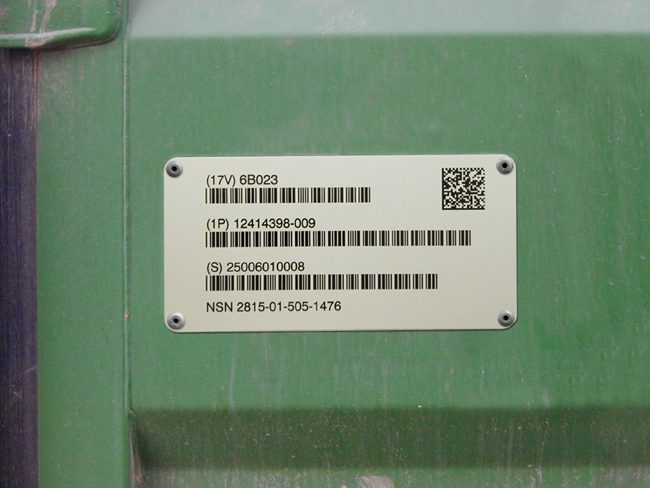 Explore Asset Tracking for the Military, Government and Law Enforcement
Find out how your peers are tracking other assets in your industry. View All Industries ›
Stay Up-To-Date on Gun Tracking and Firearm Management
Explore our firearm tracing case studies, blog, buyer's guides, specification sheets and more — and start learning more about the complex world of gun tracking. View All Resources ›
"Camcode did a fantastic job helping us IUID labels for a government contract."
"Camcode did a fantastic job helping us IUID labels for a government contract. They were very knowledgeable and patient while guiding us through the process. The labels are perfect and exactly what our customer wanted. We will definitely use them again!"
"Camcode proved to be a fast and flexible partner."
"Camcode proved to be a fast and flexible partner when it came to the actual design, choice of UID label material and the best way to attach the UID labels to our assets."
Rune K.
Project/System Manager
Track Your Firearms, Trace Your Guns with Durable Labels
Find the right label to improve gun tracking accuracy and accountability.  Don't see what you need? Our product development team is on standby to design and build your perfect label.
Let's Talk ›